Vince Maloy passed away August 15th after a long bout with leukemia. Vince's funeral will be held at the Brinsfield - Echols Funeral Home in Charlotte Hall Maryland on Saturday August 17th.

This website will continue as a memorial to Vince's contribution to both rockabilly and Southern Maryland rock and roll.

Please take a moment to sign the guest book. I know Vince's family would really appreciate it.
Greg Laxton
(your webmaster)
Southern Maryland Rockabilly Cat!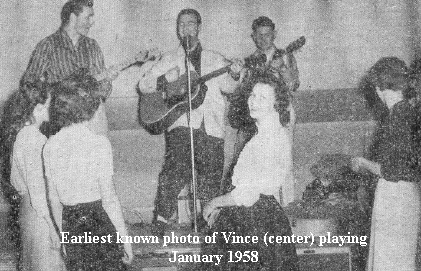 ---
Vince Maloy is Southern Maryland's original rock and roller, releasing his first sides in 1957. This record came out on Web Records, "Honey Baby" b/w "Wine Bop Bop."

After this record, Vince went on to release 5 more sides between 1958 and 1968. He also made over 50 appearances on the "Milt Grant Show" - the Washington D.C. area's version of "American Bandstand." He also appeared on the Felix Grant Show and the Buddy Deane Show in Baltimore. In addition, Vince hosted three radio shows over the years.

In the 1960s, Vince established himself as a night club performer. He took his routine to Las Vegas, Puerto Rico, the Bahamas, and played all over the Washington D.C. area.

During this time, Vince became good friends with Link Wray, sometimes sharing the stage with Link and the Wraymen. Vince remembers one notable gig where he had to play a bowling team tournament banquet - the Wraymen weren't busy at the time, so Link, Doug and Shorty were Vince's backing band that day!

Around 1970, Vince left the music business and joined the North Beach Maryland Police Department, advancing through the ranks and becoming the Chief of Police. Vince then went on to law enforcement duties for the Federal Government and retired after a successful career in 1997.

Vince now runs a successful antique business in Leonardtown, Maryland. Vince recently found several reel-to-reel tapes full of unreleased songs in his attic that may one day see the light of day.

With his Gibson acoustic and Fender electric that he's owned since 1956, Vince is hoping to get back in the studio soon!
SUMMER 2001 UPDATE!
Vince had recently gone back into the studio for the first time in just over thirty years. Vince went over to the studio of Vinylux Records recently and sat in with members of the East Coast's best traditional rockabilly band, The FleaBops.

Vince worked up a new version of "Indeed I Do" with the music of an unreleased song Vince did in 1959, "Be My Chick" and the results were very impressive.

During a later jam session, Kenny Wathen (of the Rythym Rascals) and Vince played for the first time in close to 40 years. You can see pictures of these sessions over at the photo page.

BIOGRAPHY DISCOGRAPHY HOME LINKS NEWS CLIPPINGS PHOTOGRAPHS

View Vince's Guestbook
Sign Vince's Guestbook

SWAP BANNERS WITH US!

site maintained by Full Circle Productions (c) 2001 - 2002
since August 15, 2002
site last updated August 15, 2002